Elsa and Ariel Love Rivals game
Follow us on Facebook and Youtube: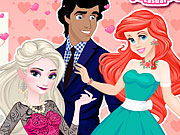 Description: Elsa and Ariel Love Rivals
Oh no! Elsa and Ariel look at each other as rivals. What happened? And the thing is that they liked the same guy and he is incredibly good-looking. It should have happened sometime, and after that let the best friends not quarrel. And now let's look at what will happen next and whom this handsome will choose. As the game "Elsa and Ariel Love Rivals" starts, then you will have to decide who you will play for. Choose outfits for the one you like best. If you like both girls, then try to choose the best outfit for each of the princesses. In this dress up game, you can choose a hairstyle, dresses, shoes, and jewelry to create the best outfit and dazzle a handsome guy.