Barbie Wants to be a Princess game
Follow us on Facebook and Youtube: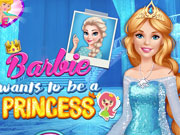 Description: Barbie Wants to be a Princess
Barbie loves adventure, and especially try on different outfits. As you know, she adores Princess Disney and would like to be in their roles with pleasure. Having learned about this, the princesses with pleasure invited Barbie to visit and now our beauty can enjoy pleasant moments trying on the outfits of princesses. In this game you will visit all the princesses you know and see how their wardrobe is arranged. Use the mouse and the red arrows in the game to select the outfits for our cute blonde.
By the way, do you know the names of all the princesses that Barbie comes to?