Girl the veterinarian game
Follow us on Facebook and Youtube: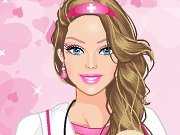 Description: Girl the veterinarian
Meet Jessica. She is a veterinarian. She dreamed to help and heal animals since she was a child. She loves her job, and likes to see animals healthy. Except this, girl loves fashion and looks very stylish! Prepare the girl for a new working day and choose a new outfit.
How to play:
drag clothes on the girl to try something on her with the mouse. If you do not know what to wear, or you have no ideas, then click on the button with a light bulb. You'll see four options of ideal attire. Try to repeat each of them.
Played: 74772. Added: 25-10-2012, 14:54.. Categories:
Dress Up