Princesses Multilayered Fashion game
Follow us on Facebook and Youtube: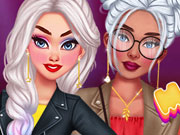 Description: Princesses Multilayered Fashion
These girls with each new season of fashion change their outfits and carefully monitor the fashion trend. They are not the kind to wear a dress that is no longer fashionable. It gives them great pleasure and it seems to me that they live it. In this game, they invite you to create new stylish and fashionable images in layered clothes. Since ordinary simple cute dresses are no longer in fashion, you will have to try and create outfits from a large number of details. Start the game and choose makeup, dresses and hairstyles for each of the girls.