Summer outfit game
Follow us on Facebook and Youtube: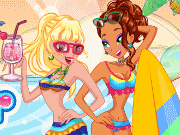 Description: Summer outfit
You're already waiting for the summer and want to relax near the sea after a long and cold winter? And what about your summer outfit? Let's pick up a beautiful outfit to relax the sunny shores of the beach in this dressing up game! By the way, do not forget about friend's outfit.
To choose clothes for your vacation click with the mouse on the round buttons and see how the clothes and jewelry for girls.