Regal Academy Ling Ling IronFan dress up game
Follow us on Facebook and Youtube: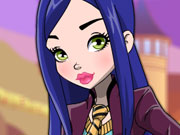 Description: Regal Academy Ling Ling IronFan dress up
You are probably familiar with Ling Ling from the Royal Academy. This is a very famous and popular student at this school. She is famous for being known by a strong and purposeful warrior who achieves any goals. But on the other hand, she is little familiar with fashion, romance and beautiful things. Therefore, in this area, she needs help. Can you help her in choosing a dress, jewelry and makeup? Ling Ling will be very pleased to know that you helped her in this and for this she will be able to treat you as warmly.
Use the mouse to choose dresses, jewelry and shoes to create for the girl from the Royal Academy a cool outfit that she and other students will like.