Halloween couples rivals game
Follow us on Facebook and Youtube: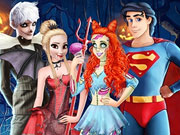 Description: Halloween couples rivals
Cool and scary game for those who like dress. In this game you will find a little frightening costumes for Halloween. You're probably familiar with this holiday and so confident will feel in this game. The heroes of this game, as you may have guessed, are Ariel and Elsa and Jack and Eric. These beautiful couples are ready to try on costumes. Guys will choose their outfit and about girls you have to choose something special. Use the mouse to click on the arrows left and right in the game, and then pick outfits for each of the princesses from this very large and fun set of clothes that I've ever seen.
Once you have finished the selection of dresses, click on the button on the bottom left to evaluate which pair turned out better.
How do you play? You can start playing again. Waiting for your comments :)