Frozen Elsa Baby Birth game
Follow us on Facebook and Youtube: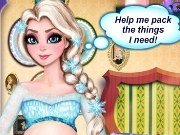 Description: Frozen Elsa Baby Birth
Beautiful Frozen Elsa is going to become a mother. This is a very important stage in the life of every girl. In this game you will help the Princess give birth to a blond child successfully and painlessly. Because Elsa is preparing to become a mother for the first time and very nervous. She wants her child to be born healthy and did not suffer during childbirth.
How to play:
help beautiful Elsa be a mother and stop worrying about this difficult process. In the game you can help her to collect things to go to the doctor and to pass a simple examination in the hospital. This will give the opportunity to be born a beautiful child and the Princess will be a happy mommy.