Disney's Got Talent game
Follow us on Facebook and Youtube: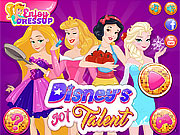 Description: Disney's Got Talent
You all know that Disney Princess is a very talented girl. She can sing,dance, dress up and perform miracles. But our beauty has decided to take part in a talent show and want to show the judges some its other side. In the game Princess Disney on talent show girls will surprise you and the judges.
If you watched cartoons and played games about Princess Disney, it is easy to guess the name of these girls. Select one of them early in the game so she could participate in the show. In the beginning it will be presented to the judges, and then they ask what the Princess might impress the judges. Get ready to help the girl not to get three rejections. After all, these judges are very cunning and capricious!