Draculaura Baby Birth game
Follow us on Facebook and Youtube: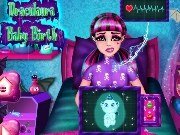 Description: Draculaura Baby Birth
Draculaura is already grown and ready to become a mother. There are very few time it can be born child. She was extremely easy to perform some work and she hopes for your help. Now she needs to collect things and to go on reception to the doctor. Help a famous girl find all the things from the list and put them in the bag. Then you go on reception to the doctor who will examine the mother and interested in the health of the child.
How to play:
in this game you can help Draculaura to be born her child. To begin, collect all of the hidden things in the room by clicking on them with the mouse. Then go to the doctor, who will monitor the health of Draculaura.