Ballerina Ghouls Draculaura game
Follow us on Facebook and Youtube: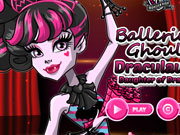 Description: Ballerina Ghouls Draculaura
I think that everyone is used to the fact that Draculaura constantly tries to surprise us with his actions. Today she decided to realize her long-standing dream. She would like to become a ballerina! And for the introductory lesson, she needs to prepare properly. First let's pick her a cool outfit. After all, how can you be a ballerina if you have an ordinary dress? Therefore, your help here is very useful. Let's create for
Draculaura
from Monster High the best outfit for ballet lessons, and the rest will be done by our favorite heroine.