Cleo's Skull Shores rest game
Follow us on Facebook and Youtube: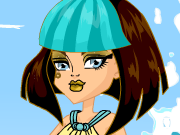 Description: Cleo's Skull Shores rest
Cleo de Nile and her friends from the Monster High are going to relax on the beautiful and terrible Skull Shores! Although this is a scary place, but it is beautiful! This beach keeps many secrets, but it has so many beautiful places.
How to play: pick up new dress, hair and jewelry for our beloved student of Monster High Cleo de Nile in the game! Click with the mouse on the sections of clothes and jewelry on the right to look around and choose the best for a girl.
Played: 59094. Added: 15-12-2013, 13:30.
Play other games from this developer:
StarSue.net
. Categories:
Monster high