Monster Popsy Surprise Dolls game
Follow us on Facebook and Youtube: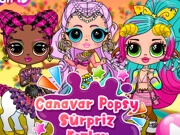 Description: Monster Popsy Surprise Dolls
Meet baby dolls in the form of monsters. They look a lot like the teenagers from Monster High. Do you think so too? But our dolls only dress like monsters, but they are very kind and just fool around. Look at these of them. This is a centaur, a little mermaid and a satyr. These cool images suit them very much. Let's see together what awaits us in this game. As usual, you will be able to choose hairstyle and makeup for each of the monster girls. Then in the game you can pick up fabulous clothes. After all this, we will receive three magnificent dolls that can live in some of the fairy tales, and maybe in the real world!