Cinderella and Draculaura Babies game
Follow us on Facebook and Youtube: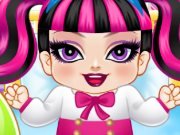 Description: Cinderella and Draculaura Babies
Would you like to see the famous Cinderella and Draculaura in early childhood? In this game you will have the opportunity. Select one of the babies and take care of him. Change a diaper, take a massage or play with him. In addition, you will be able to choose hairstyles, dresses and decorations for babies.
How to play:
in this game you can pick up for small children to do many useful things. Use the mouse and buttons on the screen to make the selected child happy and beautiful.