Holt Hyde in the pool game
Follow us on Facebook and Youtube: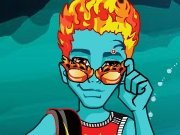 Description: Holt Hyde in the pool
This guy is 16 years old and he is the son of Mr. and Mrs. Hyde. He is a promising DJ and is very proud of it.
There is a swimming lesson at the Monster High. Holt Hyde and his class are already preparing for it. You can change his hairstyle, hair color, skin color, choose decorations. Shorts and T-shirt are certainly worthy of attention. Do not forget to see what beautiful towels and piercings are there in this game.
Played: 38808. Added: 16-05-2014, 05:52.
Play other games from this developer:
StarSue.net
. Categories:
Monster high