Abbeys Snow Monster game
Follow us on Facebook and Youtube: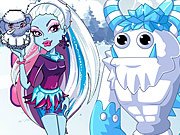 Description: Abbeys Snow Monster
When the streets were full of snow, you can leave the snowballs or make a snowman. And Abby decided to create his cute snow monster who will be her best helper and friend. With it she can perform a variety of tasks for the school of Monsters. Let's help the beautiful Abby think of how it might look like a snow monster. First choose the shape of the legs. Take shape for snow shoveling and collect the right amount of snow. Then click the form body, shape of hands and head. After some time you can do the decoration of the animal. This is the most interesting for any girl. Well, the final stage you can choose a new outfit for Abby. Because in the Monster high New Year, which means that there will be a party!
How to play:
in this game you will create a snow monster for Abby from Monster. Use the mouse and hints in the game to get the powerful and friendly monster made of snow.
Abbeys Snow Monster game walkthrough: