Draculaura's Art Class game
Follow us on Facebook and Youtube: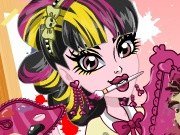 Description: Draculaura's Art Class
Every year Monster High arranges the exhibition of students' art works. This year Draculaura decided to represent her very interesting work on competition and win it! What do you think, will she make it? Judging from the sketches she has something to show the judges.
Can you help her to choose a funny outfit in which she will represent her painting for the competition? Think up something unusual and creative for this girl as for the real artist.