Lagoona Blue on the beach game
Follow us on Facebook and Youtube: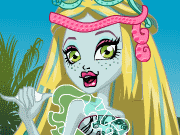 Description: Lagoona Blue on the beach
This game is about the Lagoona Blue from the Monster High. She and her friends today continue to learn to swim. But she doesn't need lessons. She swims perfectly since her birth. Therefore Lagoona goes to swimming lessons just to be with her friends. She is having the time on these lessons with her favorite friends from Monster High!
In this dressing up game you need to pick a new swimsuit and outfit for water recreation. Use your mouse to click on buttons and pick an outfit for Lagoona.
Played: 49068. Added: 17-05-2014, 07:55.
Play other games from this developer:
StarSue.net
. Categories:
Monster high