Draculaura: Dress up for the time game
Follow us on Facebook and Youtube: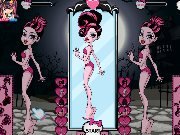 Description: Draculaura: Dress up for the time
Are you well versed in Draculaura's clothes? This is not just a dress up game, it is the competition for the time. In the beginning you will see Draсulaura in the mirror. Look carefully and compare it with your Draculaura on the right side of the screen. There she stands not dressed at all and you will find everything to wear in her wardrobe. It would be easy, but you have a rival. He dresses another Draculaura and also wants to win the game. So hurry and will be the first!
How to play: at the beginning of the game you will see three Draculauras. In the mirror, in the center of the game, this is the girl you need to be leveled. Left and right there are the girls that are the same at the beginning of the game. Left is dressed by your opponent, and the right is yours. Use Mouse to select the category of clothes and put them on a girl to get exactly the same image as in a mirror. Do you think it is simple? So try it!