Lagoona Blue dress up game
Follow us on Facebook and Youtube: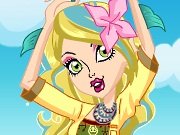 Description: Lagoona Blue dress up
A new game with the characters from the Monster High cartoon! Do you recognize Lagoona Blue from the cartoon? Today Lagoona and Gil Webber have a date. Lagoona wants to prepare for it and tries to look perfect. The fact is that today Lagoona is meeting with Gil Webber's parents. Therefore, she should look very neat and stylish. Boy's parents are very strict and can forbid Gil to date Lagoona.
How to play:
click with the mouse on the menu items to choose hair, clothes, jewelry for the girl. To do this, select the objects and drag to the beauty. If you want to undo the last selection, then click on the subject, to remove it from her body. You can make the doll bigger by clicking on "Zoom". When finished choosing the outfit for Lagoona, click on "Done" button.
Played: 56286. Added: 26-09-2012, 08:27.
Play other games from this developer:
StarSue.net
. Categories:
Monster high
Lagoona Blue dress up game walkthrough:
Play Monster High Lagoona Blue game.