Chibi Rochelle game
Follow us on Facebook and Youtube: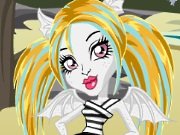 Description: Chibi Rochelle
Gargoyle Rochelle Goyle is from Paris. She lives on the roof of a large cathedral. She wants to go to school of Monsters and therefore she needs to look in the style of students of this school.
How to play:
Work with Rochelle's outfit and pick the best for her to study at the Monster High. There are so many hairstyles that you can choose in this game. In addition, there are also clothes, jewelry, choice of skin color, and shoes.