Ghoulia Yelps game
Follow us on Facebook and Youtube: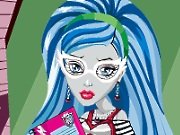 Description: Ghoulia Yelps
Do you recognize who is this? This is the most intelligent girl Ghoulia Yelps at the Monster High. She knows the map well and easy solves complex examples in math and knows hundreds of poems by heart!
How to Play:
. Ghoulia looks great, but can you offer something new to her image? First check out her hair, makeup and eye color. Then click on the arrow button, to begin selecting dresses, stockings, jewelry, and shoes for Ghoulia Yelps. As you finish, click the Finish button. What do you think about the result?
Played: 74232. Added: 14-10-2012, 21:00.
Play other games from this developer:
StarSue.net
. Categories:
Monster high
Ghoulia Yelps game walkthrough: