Monster high puzzle game
Follow us on Facebook and Youtube: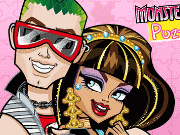 Description: Monster high puzzle
This game is for real Monster High fans for those who love puzzles. Who else would have the patience to collect puzzles? Here you can select one of six images with pupils from the Monster High and completethe image of its little pieces with the mouse. If you need to turn the item, click on it with the mouse. The game has five levels for each image. At each level, the number of pieces of images increases. Beginning from the 16 and ending with the 64 on the fifth level.
Played: 57825. Added: 4-08-2013, 07:32.
Play other games from this developer:
StarSue.net
. Categories:
Monster high
Monster high puzzle game walkthrough: