Catrine Demew game
Follow us on Facebook and Youtube: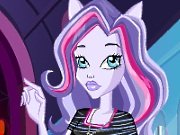 Description: Catrine Demew
Do you know who is it? This is Catherine Demew the Monster High. This stylish cat-werewolf is going to Paris! And as you know, Paris is the center of the fashion world! Prepare the girl so that she was not worrying about her outfit in France.
How to play:
choose a chic outfit for Catrine in this Monster High dress up game. Click on the buttons to pick makeup, hair and then dress, shoes and jewelry for her.
Played: 79209. Added: 26-09-2012, 09:51.
Play other games from this developer:
StarSue.net
. Categories:
Monster high
Catrine Demew game walkthrough:
See pictures and play catherine de mew games.