Bonita Femur Dress Up game
Follow us on Facebook and Youtube: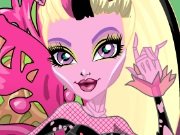 Description: Bonita Femur Dress Up
Are you familiar with Bonita Femur? This girl goes to Monster High. Most of all she likes to go to boutiques. This is her favorite occupation. There, she can spend hours trying on clothes and enjoying it. And also her clothes is covered with holes and bitten. This is because Bonita buys second hand clothes. When a girl is nervous, she starts to bite and chew her clothing. She is such a weirdow.
In this dress up game control is organized only with the mouse. Look what outfits monster girl liked and choose the best combination of clothes.
Played: 67599. Added: 1-03-2015, 08:17.
Play other games from this developer:
StarSue.net
. Categories:
Monster high