Clawdeen's new scarmester game
Follow us on Facebook and Youtube: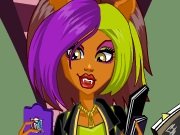 Description: Clawdeen's new scarmester
It is the beginning of a new scarmester at Monster High, so all students return from vacation. Let's choose a new outfit for Clawdeen Wolf. Actually, she has changed a lot of stuff in her wardrobe. You'll love all the things that you are going to see in her closet.
To dress Clawdeen Wolf up, use your mouse and your excellent imagination.