Wonder Woman Lookalike Contest game
Follow us on Facebook and Youtube: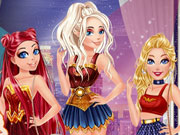 Description: Wonder Woman Lookalike Contest
Princess Disney gathered to participate in the competition, which will win the one who chooses the best costume and will look like Wonder Woman. This cool dress up game "Wonder Woman Lookalike Contest" will give you the opportunity to compete in creating the famous image from the movie of the same name. As the game begins, you can start choosing outfits, makeup, and jewelry for the three princesses who are going to become the best in this genre. At the end of the game, you will be able to vote and give the best rating to the girl who most closely resembles Wonder Woman.