Multiverse Elsa game
Follow us on Facebook and Youtube: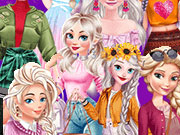 Description: Multiverse Elsa
This is Elsa. And this is Elsa. And again, Elsa! How many are there! In this game "Elsa from different universes" you will meet a huge number of princesses that are in different universes. It is very interesting and surprising to see how many different princesses Els can be and how they can look. In this dress up game, you can visit all the alternative universes and see how Princess Elsa looks in their world. In addition, you can choose for each of them beautiful dresses. Sometimes they are funny and unusual, but at the end of the game, you will get a selfie with eight princesses who will be happy to smile at you.
By the way, if you're a big fan of this blonde, then I suggest playing the
Elsa vs. Ariel game
. This popular game will show you that even Ariel and Elsa can compete with each other to go on a date with a beautiful guy.