TikTok Outfits Of The Week game
Follow us on Facebook and Youtube: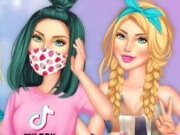 Description: TikTok Outfits Of The Week
It is fashionable and interesting to be a blogger these days, especially when social networks like TikTok are so popular now. There are so many interesting and talented people there! And how cool is it when you are fond of fashion and watch popular bloggers! Let's take a look at the company of these budding girl bloggers who are showing great promise. In this dress up game we'll be able to match all six girls with the coolest outfits of the week. If they get a lot of likes, they will receive prizes. It's great to do something and get presents! Therefore, they want to create several pictures and share with their subscribers.
How to play:
Help the girls find outfits. Use your mouse or finger taps to try on outfits, hairstyles and jewelry.