Barbie's Elfie Selfie game
Follow us on Facebook and Youtube: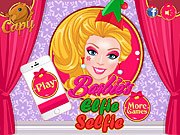 Description: Barbie's Elfie Selfie
Barbie loves to take photos, especially selfies. She has the idea to make a few new selfies for her fans. She doesn't know what to surprise them. But one of the fans asked to make an unusual selfie. What if you make a selfie where Barbie would look like elf? This idea is very much like it. Today will be the Christmas party and our girl wanted to go there in the elf outfit.
How to play:
Barbie is going to make elf a selfie, and then go to a party in honor of Christmas. Help the girl be more like the elf. In the beginning make her makeup and then choose clothes and jewelry to get in your own way.