Dress Juliet up game
Follow us on Facebook and Youtube: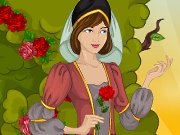 Description: Dress Juliet up
Girls, do you remember a beautiful story about Romeo and Juliet? In our wonderful online game for girls you can get acquainted with Juliet closer. Today she has a date with Romeo and she needs to look amazing. Help her to choose a beautiful medieval dress to charm Romeo. Try to make her look fascinating.
How to play the Romeo and Juliet dress up
Choose a costumeclicking on the switches on the left and right from Juliet. Try onhats, dresses, shoes, and lots of accessories. When you finish dressing Juliet up, you can save the picture, print it, or play the game again.