Harley Quinn Dress Up Game game
Follow us on Facebook and Youtube: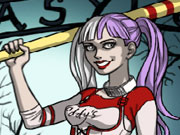 Description: Harley Quinn Dress Up Game
Girls, will you know who that is? It's Harley Quinn! You could see her in the movie Suicide Squad. In this film, she plays the role of a psychiatrist who must cure the Joker, but she does not get out and needs help now.
In this game you will be able to recreate the image in which she was in this movie. Also select the outfit in which she was at the very beginning of the movie. Use the mouse and tabs at the top to see all the decorations and outfits that you can try on Harley Quinn.
Played: 42138. Added: 10-09-2018, 08:26.. Categories:
Dress Up