Batgirl dress up game
Follow us on Facebook and Youtube: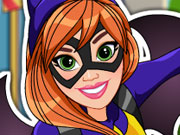 Description: Batgirl dress up
Batgirl is very smart since childhood. Thanks to his intelligence and resourcefulness, she was noticed in the Super Hero League. Now she can be proud of the fact that she personally knows all these famous heroes about whom we watch films and cartoons.
In this game of dressmaker with Batgirl, you can create a cool costume in which this girl will appear among the Super Heroes and will carry out various missions to find the villains. Create a couple of costume ideas that make it easy for her to run, jump and fly on her wings.
By the way, if you like superhero games, then for you I have
My superhero boyfriend
game. In this game, the girl got into a difficult situation and calls for help a superhero who can help her get rid of the hooligans in the park.