Social Media Influencers game
Follow us on Facebook and Youtube: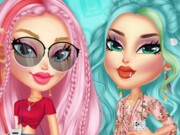 Description: Social Media Influencers
You probably know and follow such fashionistas whom almost everyone knows. They are well versed in fashion, they know a lot about cosmetics and follow any new products. Their personas are very influential on the internet, and many brands want to get good reviews on their products. So today there will be another presentation, to which our stars have already been invited and they are very much awaited. In this dress up game, you can try your talents in creating a look for a social media star. Try to create a stunning image that will be remembered by everyone and will further make them more famous and influential in the industry.
In the game, you can choose from makeup, hairstyles, fashionable outfits, and many decorations. Among them are glasses, headbands, earrings, jewelry, handbags, mobile phones, and even delicious ice cream!