Barbie Remembering College game
Follow us on Facebook and Youtube: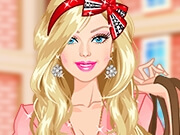 Description: Barbie Remembering College
Barbie goes back to college again. Now she is a famous model that many people know. But in the past, she was very fond of studying and friends with whom she had fun in college and after school. She had the idea for a long time to create outfits for college students and show how to dress beautifully and stylishly for school every day. In this dress-up game, you can create as many as five outfits for girls with her.
How To Play:
Design trendy outfits for girls going to college. Choose a dress first, then you can think of a blouse and skirt. After that, the stage of choosing a hairstyle and jewelry begins. And of course, you need to find a beautiful backpack for study.