Nail art salon game
Follow us on Facebook and Youtube: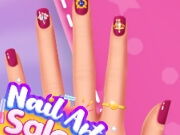 Description: Nail art salon
Do you love beautiful, well-groomed manicure? In this game, you can become a beauty salon master and get the opportunity to try to create the most incredible patterns on your nails. Your manicure can be of any color and pattern. In addition, you can pick up rings of various types, as well as jewelry for hands. Well, what a manicure without a new image. In this game, you can offer your clients not only a great manicure but also choose a new look for him. Choose hairstyles, dresses, jackets, shorts, and skirts to suit your taste. And of course, there are some cool handbags that will perfectly complement your client's new look. Try to work in all four salons and surprise and showcase your skill and talent.