Stylish imp game
Follow us on Facebook and Youtube: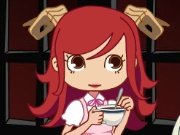 Description: Stylish imp
Imp's mom will late from work today, and so this little imp decided to have fun! She is going to the carnival. Along the way she wants to scare people, and so she needs something cool to wear.
How to play:
click on the circles to change the background of the imp dress up game, clothes, some jewelry on her head, facial expression, and even more. If you're really tired of playing, then press the circle with a question mark. You will look at randomly drawn costumes. You'll love it!
Try another game with the same imp. This game is "devilishly stylish".
Played: 35001. Added: 14-05-2012, 18:06.. Categories:
Dress Up