Disney Princesses: Boho vs Edgy game
Follow us on Facebook and Youtube: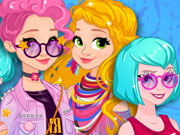 Description: Disney Princesses: Boho vs Edgy
Our beloved princesses are waiting for spring not only because it is beautiful and pleasant, and then that the Coachella festival is held in the spring. This makes them very happy and they would like to go there. This festival is famous for the huge number of people who go there. There they listen to music of various directions, go to exhibitions of paintings and sculptures. The princesses were already there and waiting for this festival to take place again. They are already planning what to wear and their wardrobes are full of various new clothes and decorations. This time they chose fashionable styles boho and edgy.
In this game of dress up with Disney princesses, you can dress each of the princesses in these two styles of clothing, and then compare the princesses and choose which outfit turned out better.