Draculauras Blind Date game
Follow us on Facebook and Youtube: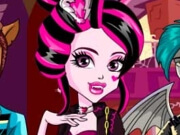 Description: Draculauras Blind Date
Draculaura's friends persuaded her to go on a blind date. This is a very funny case. After all, she does not know the guys with whom she is going to meet. These guys are named Clawd Wolf and Garrott du Roque. The first guy is the captain of the football and basketball teams, and the second is a talented promising fashion designer. As you can see, these bachelors are excellent candidates for a date with our Draculaura. Let's help the student Monster High choose who to go on a date with. We will do this with a test. Give answers to simple questions, and so we will find out who is most suitable for a date with the heroine of the game. Then you can start choosing an outfit. Choose from three outfits that Draculaura wants to wear. Remember it and create the same one. Watch the indicator on the right. It shows how accurately you choose the outfit items that were shown in the picture before. If you are confused, then click on the "Hint" button to remember which elements of the outfit you should still choose.