Cleo de Nile Real Haircuts game
Follow us on Facebook and Youtube: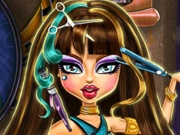 Description: Cleo de Nile Real Haircuts
Cleo de Nile wants to get a new hairstyle and needs new ideas. Since she was born to be a leader, she loves everything that is golden and contrasting. Be her stylist in this game and create any hairstyles for your favorite Monster High cartoon character. In this game, you can not just choose the color of the hair, but the direction of the strands, their length and the color of different sections of the hairstyle. And don't forget the gold hairpins. Cleo loves them. The next step in this game will be to choose an outfit for the girl. After all, just updating your hairstyle is not enough, but you also need a new outfit.
How to play:
in this game you can create any type and color of hairstyles with just the use of your mouse or the touch of your finger. Try adding gold glitter not only to your hairstyle, but also to a new outfit for Cleo de Nile.