Hair weave game
Follow us on Facebook and Youtube: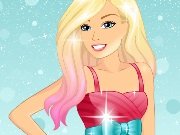 Description: Hair weave
Do you like weave? If you do not know what it is, then the hair weave game will tell you how such hair looks and how beautiful such hairstyles are. Our girl has wanted to try highlights on her hair, but does not know what color will come up. Look at all the possible options and choose the best for her. Let's not stop on it and pick a dress, jewelry and makeup for her! This will be a great gift for her. After all the girl is concerned whether a new hairstyle which she did in a barbershop suits her or not.
For the game you need only the mouse and your ability to pick items of the outfit.