Wedding hairstyles salon game
Follow us on Facebook and Youtube: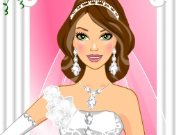 Description: Wedding hairstyles salon
Hairstyle for the bride is one of the most important points. If the bride has the best dress, makeup and shoes, but the hairstyle was done poorly, the bride will be very upset! It is very good that there are good bride hair salons for all occasions. In this game, you're just going to prepare the bride for the wedding. Step by step, make them the most beautiful and elegant brides.
To play, you only need a mouse. Watch carefully the glowing icons on the left of the bride. Click on them with the mouse and then use these things on purpose.