Think up your own hairstyle game
Follow us on Facebook and Youtube: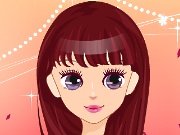 Description: Think up your own hairstyle
You can think up the hairstyle and dress suiting it for just one minute or maybe faster! First, choose a bang, its color. Next choose the rest of the hairstyle. When ready think over an outfit for your creation. How is it? Beautiful?
How to play:
click the orange buttons that you could choose the form and color of the fringe, hairstyle, jewelry and clothes for your model.
Played: 52200. Added: 22-04-2012, 16:34.. Categories:
Hairdresser