Romantic hairstyles game
Follow us on Facebook and Youtube: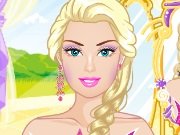 Description: Romantic hairstyles
If you're about to go on a date and you have no idea what hairstyle to make, then try this game. Here you will learn to make three beautiful and chic kinds of hairstyles. After a little practice you will be able to do the same for you friends. Besides this your boyfriend will certainly like these hairstyles.
You use only the mouse in this game. At the beginning you choose what kind of hairstyle you want to do, and then you can begin to create it. Follow the prompts and you will succeed!