Fabulous Back 2 School Hairstyles game
Follow us on Facebook and Youtube: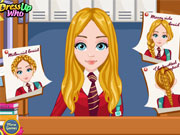 Description: Fabulous Back 2 School Hairstyles
A new school year has come and this girl Lina wants to go to school to see her friends. They have not seen each other for three months! It's so long if these girlfriends like to spend time with each other. Like any girl, our schoolgirl likes to look beautiful. So she decided to bring something new to her appearance. She would like to choose a new dress and of course to update her hair. After all, her hair has grown over three months and now she can do something new with them. At the beginning of the game you can choose the type of hairstyle, and then start creating it. In addition, the game can be applied light makeup for this beauty. After all, it is to add beautiful notes to her image and the girl will become beautiful and beautiful.