Barbie Hair Doctor game
Follow us on Facebook and Youtube: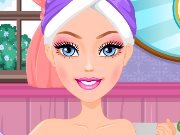 Description: Barbie Hair Doctor
Barbie is going to go to the hospital. This time she turned to the doctor complaining of the condition of the hair. She thinks the doctor will help her. Come with us to the hospital and see what the doctor will tell you about blonde hair and how to treat them. And after the doctor Barbie wants to go to a beauty salon and make yourself a cool hairstyle. She would like to choose a new dress. It will be a great day!
How to play:
in this game, Barbie is going to cure your hair. It seems that there's got bugs. The doctor can easily examine Barbie`s hair and tell her how to treat them. Use the mouse to help the girl get healthy and make yourself a new hairstyle, and then to update your wardrobe.