Mini Ear Doctor game
Follow us on Facebook and Youtube: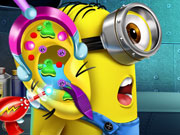 Description: Mini Ear Doctor
I think you are familiar with the minions and easily recognized this cheerful patient that you came to see the doctor. He complains that his ears are sore and inflamed. In this game, you will help the doctor treat the minion's ear. To begin with, you should fix it and then deal with hair removal with scissors. Then brush your ears with ear sticks and now the process of treating the minion's ears will go noticeably nicer and easier. After that, use all sorts of interesting tools to clean the ear from dirt, as well as remove all pus from the ear. Then you should deal with the bacteria that settled in the minion's ear and feel great there. Use a cream to cover up acne, and then a magnifier to find the remaining bacteria and extract them all from the minion's ear.