Santa Ear Surgery game
Follow us on Facebook and Youtube: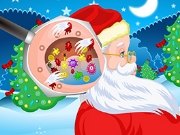 Description: Santa Ear Surgery
Santa Claus in a hurry to the children to hand out gifts. But here's the problem! Santa Claus got sick ears. He can't stand the pain and therefore looking for a good doctor. Maybe you can help him? Let's check it out the ear and check the cause of the pain. Then make all the necessary procedures on the ear, and then clean the ear from harmful bacteria. I think that after this procedure he is sure to be healthy and go on to give gifts to children.
How to play:
in this game you will help Santa Claus to visit a doctor and cure his sore ear. Follow a few simple but effective procedures to make your ear healthy.