Rosa at the hospital game
Follow us on Facebook and Youtube: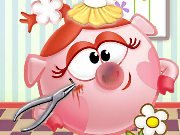 Description: Rosa at the hospital
Hi! Do you like Kikoriki? Surely you have already watched all the cartoons with them. If not, you should get to know them. And this game is about Rosa that went to the doctor in the hospital. She is a very cheerful girl, and she rode her bike today. It was so fun that she did not see the stone under the wheel of the bicycle. Can you guess what happened next? She fell and got scratched and small thorn even made her a wound. Let's go with her to the doctor, and we will treat our funny Rosa from Kikoriki.
First, let's give her a pill in a white jar to soothe the pain. Then, using tweezers pull out the thorn. Now it is good to wipe red spots with the cloth. Then you can put Rosa a dropper, and then wipe the nose with yellow wisp. There is still a patch on the table. Stick it to the wound. Now the doctor's work is done and Rosa is glad that she visited the hospital.
Played: 31383. Added: 19-08-2015, 02:50.
Play other games from this developer:
SueFun.com
. Categories:
Doctor