Makeup for doctor McStuffins game
Follow us on Facebook and Youtube: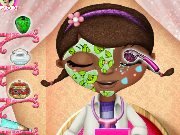 Description: Makeup for doctor McStuffins
Do you know what a specialist is doctor McStuffins? She helps boys and girls, and also animals. But she does not have time for herself. So she is looking for a good specialist, who would help her to bring her up.
In this game, the girls will make masks for the doctor, wash them, wipe the face, and then do something with pimples and look after eyebrows. It is not a very difficult job, but it requires your attention. What do you think about the game?
How to play: Use your mouse to help the girl to look gorgeous!
Played: 38250. Added: 8-07-2015, 17:07.
Play other games from this developer:
PlayBelle.com
. Categories:
Doctor
Makeup for doctor McStuffins game walkthrough: